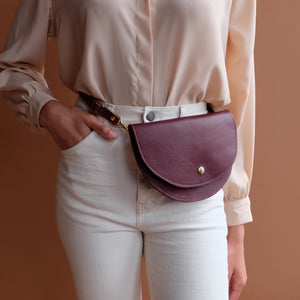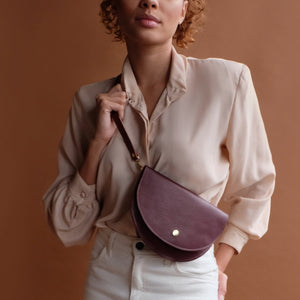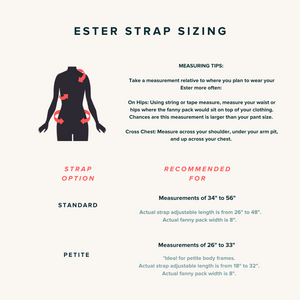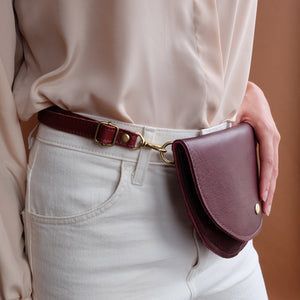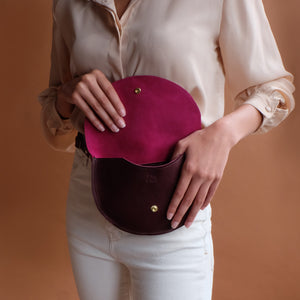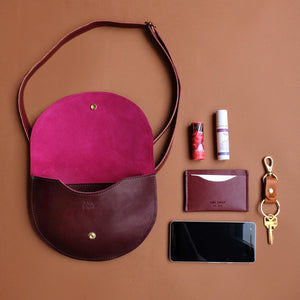 Amazing Quality
The quality of this product is excellent! And the burgundy color is really beautiful. It pairs well with almost everything. My only issue is that the strap is pretty short. I wish each one came with the longer strap.
Ester pack in burgundy
I absolutely love this bag- so easy to wear and the color is neutral but unique. I usually strap it along my body like the model does in the photo. This solves my *winter coat + tote bag slippage-off-the-shoulder* dilemma. If you're thinking about buying- just do it!!
Beautiful and so well made
I love everything about this bag: the color (burgundy), the size, the beautiful quality construction, and that I can wear it two ways! I try to only give holiday gifts from local makers and I am so delighted to gift this amazing bag (plus I bought one for myself, of course).
Simple and sweet
Beautiful stylish bag of impeccable quality. Excellent customer service, too. Thank you, Erin!
Beautiful quality craftsmanship
I recently purchased the Ester Hip Pack in Burgundy and it is absolutely beautiful. The craftsmanship and quality of this piece is one that you want to pass down to your daughter. Erin was great to work with. Wonderful customer service too! I will be returning for other items.